Latest Racket Reviews in the
E

-zone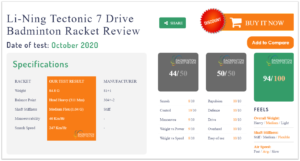 Comments
The Li-Ning Tectonic 7 Drive is one of the finest all round rackets created by Li-Ning in recent years scoring a massive 94/100.  Tested in October 2020.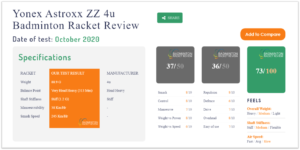 Comments
Yet another disappointing top of the range Astrox racket, not friendly to use for most club players – look elsewhere!  Tested October 2020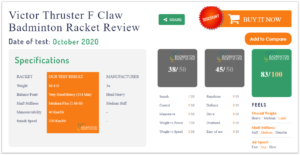 Comments
Victor rackets continue to impress us, this Victor Thruster F Claw really is super stable, easy to maneuver, great for defense and with superb build quality!  Tested October 2020
How We
Test

Our Rackets

Remember all rackets are re-strung using Yonex BG65 to the same 25 lbs tension

We use the same shuttles for all tests Yonex AS30's
We have had the same player do all of our testing for us.
Every racket is subjected to the same testing in the same way
See all our Racket Reviews
in the E-zone now
for Free!
See all our Racket Reviews
in the E-zone now
for Free!
26
World Class Manufacturers
Users
from 126 different countries
UNLEASH
YOUR
POWER
"Does it matter which badminton racket I use?" Very much so! If it didn't then we could all just play badminton with a squash racket. This example is proven particularly well when using a training racket which is really heavy and hard to manoeuvre.
IMPROVE YOUR POWER OUTPUT
REDUCE THE CHANCE OF INJURY
REDUCE FATIGUE DURING GAMES
HOW TO BEST USE THE SITE
For a full explanation on how to use this site please click here to "Learn more". Rackets were rated out of 20 for each of the categories, but from 2020 we have increased the test categories from 5 to 10 (please see below).
This means our subscribers will get an even better understand of racket performance and can therefore make better purchasing decisions
SMASH TEST
Measures shuttle velocity in Km/h
CONTROL
Measure the racket's ability to control the shuttle
MANOEUVRE
Measures the racket head speed in
Km/h
WEIGHT vs POWER
Racket is rated according to its weight to smash power ratio
WEIGHT vs SPEED
Racket is rated according to its weight to manoeuvre speed ratio
REPULSION
Player effort input vs shuttle flight from racket
DEFENCE
How effective the racket responds to strong attack
DRIVE
The rackets ability to control and power flat shots
OVERHEAD
How easy this racket plays clears
EASE OF USE
Is this racket easy to use or does it require a lot of effort